About...
A Private Island...
...just ten minutes (5.5 miles) from the city of Gig Harbor, Raft Island is located on the Puget Sound with spectacular sunsets and views of Henderson Bay, the Olympic Mountains, and Cutts Island or "Deadmans" (pictured above). Connected to the mainland by a new, modern concrete bridge (which replaced the 788-foot timber bridge in 2014), there are approximately 200 homes on 160 acres. Islanders enjoy two community beaches, a boatlaunch, park areas and a tennis court. The Island is managed by the Raft Island Improvement Association (RIIA) and an
Island Manager.
Notices...
Roads
The board has not yet made final decisions as to either the placement, location or size/style of any speedbumps.
Please DRIVE SLOWLY (the speed limit is still 15 MPH even without speed bumps).
---
RIIA Board
The Annual Meeting was held on May 15 at 7 pm. All residents of Raft Island received a ballot and agenda in advance, by mail.
Board meetings are held at 7 pm on the third Monday of every month (except in unusual circumstances). Check the Calendar of Events (on the Menu) for the next date and time.
---
From The Island Manager
Pay Your Dues Online Read more in Menu >> Community Page >> Member Dues
All vehicles parked at the South Beach parking area must display a Raft Island Parking Permit on the driver's side of the windshield. Any vehicles without a permit displayed will be towed at the owner's expense.

If you need to get a permit, please call HOA Community Solutions at 253-985-3812. Each property owner is allowed a maximum of two permits, which can be transferred between vehicles as necessary. If you have lost a permit, replacements can be purchased for $5 each. Worn out permits will be swapped out for no charge, but you must bring in the old permit with you.

There have also been reported thefts from vehicles recently at the South Beach. Please lock your vehicles and keep all valuables out of sight. Report any suspicious persons, activity or vehicles to the Sheriff Department by calling 911.

Break-ins on the island are an unfortunate fact of life. It is important to take every precaution to prevent theft and burglary. Keep doors locked and garage doors closed, even during the daylight hours!
Policy
Other policies (such as boat launch, parks and recrecation, parking and street maintenance) can be found on the Community page.
In The News
Effective Jan 2012, HOUSE BILL 1309 passed into law under the HOA Act - RCW 64.38
Maps
Area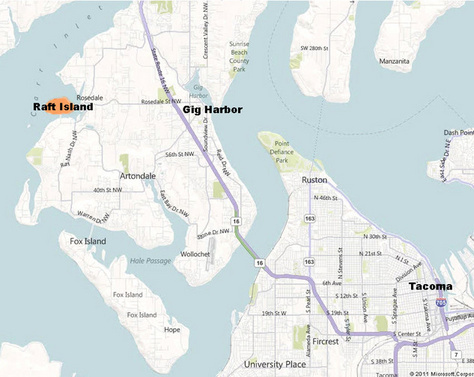 Aerial Photo of Raft Island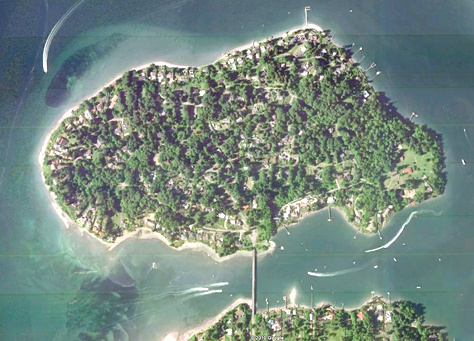 Lot Map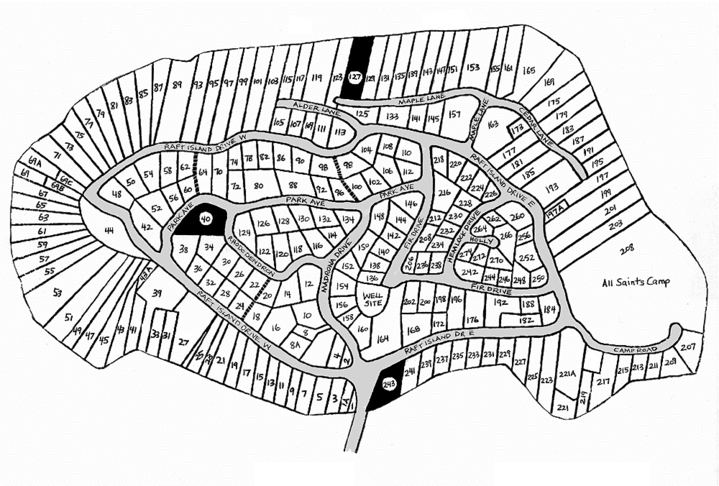 To add or change your email on the RIIA EMAIL LIST please contact the Island Manager
To join the Raft Island Community Message Board see the Community page, >> Message Board >> and follow the instructions.